WARNING: Spoiler
A reader forwarded this video link to me, an awesome peek into what The Legend has in store for us.


Here's the list of the cast:
* Bae Yong Jun (배용준) as Damdeok / Hwanung
* Lee Ji-ah (이지아) as Sujini / Se-o
* Moon So-ri (문소리) as Seo Giha / Gajin
* Oh Kwang-rok (오광록) as Hyeon-go
* Choi Min-soo (최민수) as Daejangro(Leader) of Hwacheon Clan
* Yoon Tae-young (윤태영) as Yeon Hogae
* Park Sang-won (박상원) as Yeon Garyo
P.S. As promised, I'm busy collecting more information about this TV series as I type. Come back here soon.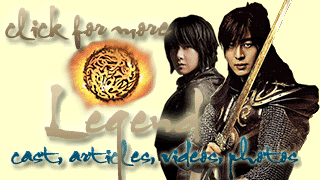 Type rest of the post here