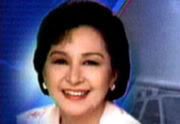 "One down, more to go, I hope."
That was the initial reaction of 1950s movie star Delia Razon upon hearing of the suicide of US singer-actor Rod Strunk, prime suspect in the murder of his wife Nida Blanca.
Razon is a good friend and fellow contract player of Blanca's in LVN Pictures, one of the country's big four movie studios (along with Sampaguita, Premiere and Lebran) in the post-World War II era.
"I just hope that Strunk left a suicide note, to clarify things," she noted. "Nida didn't deserve to die that way."
According to reports, the body of Blanca, who was bludgeoned and stabbed to death on Nov. 6, 2001, was found in the parking lot of Atlanta Center in Greenhills, San Juan.
Actress Caridad Sanchez, another close friend of Blanca's, pointed out the "coincidence that Strunk's lifeless body was also discovered in a parking lot like Nida."
According to US police investigators, Strunk fell to his death from the second-floor of an inn.
A police spokesman said Strunk's death was a suicide, when asked by INQUIRER.net.
"Why is it that he was also found in a parking lot?" asked Sanchez. "What is the meaning of his death? It's like poetic justice."
A renewed Christian, Sanchez detected "the hand of God" in this recent development.
In her lowest moment, when she felt as if Blanca's murder case would remain unresolved, Sanchez said that she "had lifted everything to the Lord … It's been six years. If we couldn't get justice on earth … I would seek it from the Lord, the best judge."
For Sanchez, Strunk's suicide brings closure to the murder case. "It's God Himself who have acted … I want to tell Kay Torres [Blanca's daughter from a previous marriage] not to pursue the case anymore. I also want to consult a lawyer—to know more about the legal repercussions of his death."
She clarified, however, that "I am not rejoicing over Strunk's death. At this point, it's best to extend compassion to him and his family. I don't think God would have wanted him to commit suicide … But, for a person to be pushed to end his own life … he must've been in pain. His conscience must've have been bothering him. I believe that his death ends Nida's murder case."
Razon also expressed the hope that Strunk's suicide would bring Blanca's murder case to a close.
"It's finally over," said Razon, who is often credited as the "discoverer"of Blanca.
"I didn't really discover her," she demurred. "I just introduced her to Doña Sisang [Narcisa de Leon, LVN producer]. I just gave her the push; she did the rest."
Razon recalled that she had been thinking of Blanca these past few weeks.
"I've been rummaging through old photo albums and I kept seeing Nida's pictures," Razon recalled.
Then, the radio suddenly boomed with a boogie song.
"I remembered that Nida was a great dancer. To top it off, the phone rang."
It was Elena de la Paz, Blanca's longtime assistant.
"Elena and I reminisced about Nida and we both ended up crying," Razon said.
Razon recounted that she had introduced Blanca to De la Paz, who was her fan, in the 1950s.
"Since she couldn't stay with me, I recommended her to Nida who needed an assistant then," Razon recalled. "They were together for 45 years. Elena was extremely loyal to Nida. That's why I couldn't believe it when she was implicated in the murder. Elena would take a bullet for Nida."
Sanchez concurred: "Elena was very close to Nida."
Sanchez also recalled that she had unexpectedly thought of her friend Blanca last week. "We're neighbors. One afternoon, I passed by and saw Kay's car parked in front of the house of Dory [pet name of Blanca's whose real name is Dorothy Jones]. I told myself: Maybe Dory wants me to visit her daughter."
Razon and Sanchez said that they didn't have bad memories of Strunk.
Sanchez related: "I believe that he wasn't walanghiya [brazen] nor … manhid [insensitive]. He was an artist … And Nida loved him so."
"Years ago, Rod had a show," Razon recalled. "Nida herself sold tickets to her friends, who came in full force to watch him."
The Philippine Daily Inquirer, parent company of INQUIRER.net, sought a comment from Torres, who relayed through a friend: "I am out of town. I am not yet available for an interview."
With a report from INQUIRER.net