This is the complete list of Zaido cast with their brief profiles.


Zaido, the first ever Pinoy produced Metal Hero Series. Marky Cielo (left), Dennis Trillo (center), and Aljur Abrenica (right) as the descendants of Shaider, in this photo as the members of Zaido, the elite team in the Pulis Pangkalawakan force.



1. Gallian BLUE ZAIDO: His parents died when Le-ar started a war and the Galactic Force adopted him. He's the first one to become a Zaido, and his first important task is to find the other Zaidos on earth. He has the blood of a hero, and extra-ordinary combat skills hence he became the leader of the Zaido force.




2. Alexis GREEN ZAIDO: He is from a poor family and saw his father die, making him vow to help destroy evil. He joins the police force but it isn't easy for him because he's always ridiculed by his peers for his idealism.




3. Cervano RED ZAIDO: Life is easy for Cervano because his family is rich. He is proud, conceited, and short-tempered but girls are still drawn to him because he is handsome and a champion swimmer.



4. Commander Zion: The Galactic Force Chief who trains the three Zaido.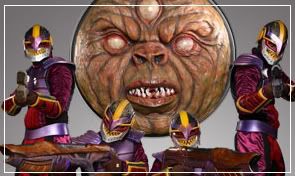 5. Le-ar: The Lord of Kuumas and a cruel lord to his conquered races. He is the sole being that can open the Time Space Warp, where the Kuumas get their strength against the Zaidos.



6. Ida: Grandson of Le-ar, his high priest, one of his closest adviser and right hand. He is considered the most beautiful in the universe but his soul is rotting.



7. Drigo: Le-ar's field commander and constantly leads the Kuuma soldiers in their missions to conquer the entire universe.



8. Amy: From planet Zendar, she is a Galactic Force Academy student who becomes the crush of Alexis (Green Zaido) and Cervano (Red Zaido). A rivalry between the two Zaidos will form to win the affection of Amy.



9. Carmela: She has a boyfriend named Alvaro but he disappears. Later on she meets Gallian (Blue Zaido) and falls in love with him as she initially helps him search for the other Zaidos. She looks exactly like the woman that Gallian is supposed to be married to but he got separated from while they were being chased by the Kuumas in outer space.



10. Mona: She is a news writer and Alexis' childhood friend. Alexis does not know that Mona secretly is in love with him.



11. Lyka: A professor in the Galactic Force Academy and daughter of Commander Zion. She has a forbidden relationship with Gallian.


12. Amasong Itim: leader of the Amasonas and an expert with blades weaponry.


13. Amazonang Lila: She's the fastest amazona and her weapon is kali.



14. Amazonang Puti: Conscience of the Amazonas.



15. Amazonang Rosas: Strongest and martial arts expert.



16. Amazonang Kahel: Most agile and a sharp shooter.



17. Alvaro: Alexis' (Green Zaido) older brother and Carmela's boyfriend. Because his family is poor and his father is dead, he stands as the provider of their family. He resorts to illegal means of earning money which makes his mother unhappy. Later on he is kidnapped by unidentified men for unknown reasons.


18. Oggy: Alexis and Alvaro's youngest brother.



19. Thor: Alexis' cousin and co-worker in the police force. For some reason he hates Alexis and makes life difficult for him. He wants Carmella to be his girl friend and courts her after Alvaro, Alexis' older brother dissappears.



20. Bawaw: Kuuma beast and has a carnival band.



21. Ulla: Friend of the Zaido.


22. Ramiro: An old friend of Alexis' deceased father and pretends to help their family but beneath his exterior is an untrustworthy character.



23. Helen: Mother of Alvaro, Alexis, and Oggy. She has a secret that can change the destiny of the Zaidos.