Pauleen Luna catches an eligible bachelor who's not only a mayor with a business degree from Boston University,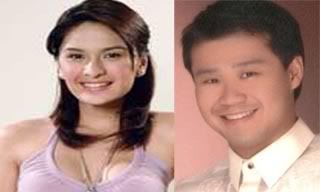 Massachussetts, but also a scion of the rich Gatchalian clan who are called the 'plastic king' for their extensive

corporations manufacturing plastic.

The couple admitted their romantic relationship in a taped interview with Startalk, which was aired Saturday.

"Para lang siyang… everything fell into place at the right time," Pauleen said.

To which Sherwin added: "Pag everything falls into place it's effortless di ba? There's

no effort, it just glides through."

The two agreed that the closeness of their families contributed to the blossoming of their relationship.

"I'm sure or else kokontra yun, di ba? Nakatulong in a way na hindi hindi siya kumontra," Gatchalian said.

They admitted that they are worlds apart. It is a first time for the city mayor to have a relationship with someone who is from the show business and it is also the first time for Pauleen to be in love with a politician.

"Definitely, with a 33-year-old guy... It's very interesting lang kasi I learned a lot of new things and surprisingly I watch news now," Pauleen said.

"Before she doesn't even read the papers," Sherwin butted in.

He added he is not used to the showbiz ways.

"Medyo, I'm not used to sa mga ganito actually but OK Lang. I'm not used to it, in other words. But kanina GMA (news crew) was also there pero iniinterview ako tungkol sa baha. It's different when you're being interviewed about something, an issue about your city and it's different if you're being interviewed about your personal life so ganun talaga e," he said.

They admitted that their relationship is still in the early stage and they have a lot to learn from each other to nurture it. But they said what is important is they trust each other.

"Dapat nga ako ang maging seloso because siya nasa showbiz e, ako I'm just surrounded with my constituents, siya she's surrounded with different boys. I trust her e she's a mature person so ..she looks like she knows where her place is," Gatchalian said.

Pauleen said: "It is still very early kasi sobrang short period of time pa lang so ano pa..good boy pa siya. Wala pa naman dapat pagselosan."

"Good boy naman talaga ako a," Sherwin said.