If it's meant to be, nothing will hinder your path towards a destined blessing. As it was, Allen Paul Aguada did not have to think twice to play it straight until the end, as his game last night pushed through without a hitch! Indeed, this basketball hopeful ended up with P3M and P2M on the money board, making him the sixth millionaire of KDOND without a doubt!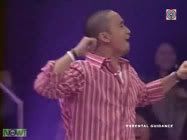 He has been living in Chicago since he was nine years old. But his aspirations to pursue a career in professional basketball made his family

decide to come back here in the country and explore the possibilities. Home for a mere four months only, he was surprised to learn that his dad registered him in the show without his knowledge. But off he went to the screening process and proclaimed it a real blessing when he was finally accepted among the thousands of people who love to play this once-in-a lifetime game.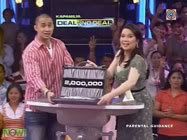 KDONDOn the night that changed the course of his life, he picked briefcase No. 20, which is his mom's birthday. Down to business, Kris Aquino made him go through his opening round which earned him P30,000 for unveiling P500,000 and P100,000 as the only high amount suitcases. Luck was certainly on his side early in the game for his next choices proved to be more uplifting, garnering him a whopping P109,200 which will more than cover his previous $300 cellphone bill just to call his girlfriend here in the Philippines before!

Nothing hampered Allen's sure victory since the next tempting baits from the Banker would only grow higher by each round! Calling a deal was out of the question though because the 1-2-3 million amounts were all alive through the end of his game! His family and friends who came to help him all contributed an excellent selection. Coupled with his great strategy and keen instinct, he truly executed the perfect formula in achieving a lucky turnout!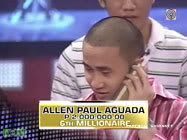 KDONDWith the Banker's half a million offer on the fifth round, followed by P1.1M and the final offer reaching a daunting P2,250,000, no one was left seating on their chairs as everyone else got crazy with happiness, when they witnessed the P3M and P2M amounts as the last remaining sums on the money board! Even Kris couldn't help sharing the laughter for the thrilling outcome in the game! She even stretched the time a bit to make way for the home players to join Allen in becoming an instant millionaire last night.

His father who only hoped to provide an exposure for his son, who's on the lookout for PBL teams, acquired a much greater fortune through his own deed. Who would have taught that they would be faced with a win-win situation? On a lighter note, the Banker really suffered a major loss with two millionaires to provide for in just one night!
http://beta.abs-cbn.com